Post by Chris Page on Jul 31, 2023 16:33:17 GMT -5
Fade in.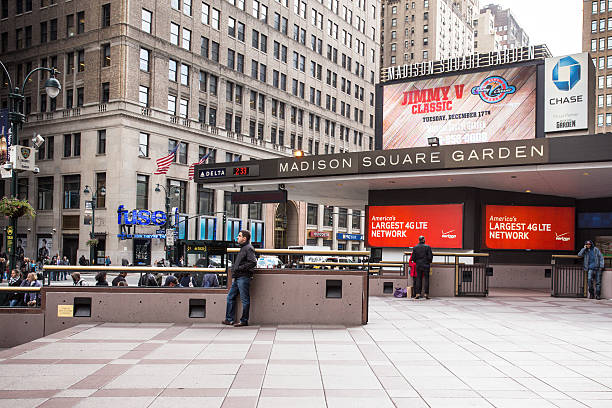 The voice of Chris Page is heard as the exterior of Madison Square Garden flashes across the screen.
"They say it doesn't get bigger than a night in Madison Square Garden… I beg to differ. Back-to-back nights inside these hallowed halls sound like MSG is set to host the BIGGEST PARTY of the Summer…"
The scene fades into one of the theatre-style press rooms that are located on the premises of Madison Square Garden.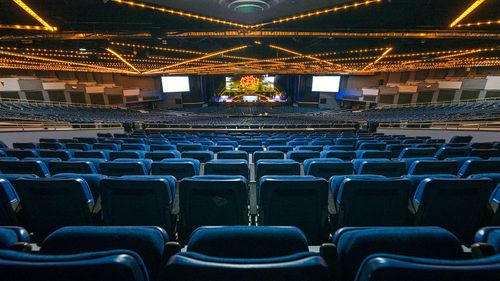 Time-lapse shows the room starting to fill up until it reaches capacity.The large crowd stands to their week and applauds the owner of the WGWF "Chronic" Chris Page. Chris emerges onto the stage, followed closely by the Co-General Manager of Monday Night Brawl, Flash Rotten. We see several tables set up across the front of the stage facing the members of the media and fans who have gathered. Chris and Flash take their seats behind the place markers for them.
CHRIS PAGE: Good evening… On behalf of…
Flash breaks in.
FLASH ROTTEN: Ladies and Gentleman…
Chris chuckles under his breath as the press room pops for Flash's typical opening line, but Chris is shocked when they repeat the next bit along with Flash.
FLASH ROTTEN and CROWD: My name is Flash Rotten… and I am the Co-General Manager of Monday Night Brawl.
A roaring pop from the crowd as we see Flash turn his head and glance at Page who shrugs his shoulders.
FLASH ROTTEN: On behalf of the WGWF we are pleased as punch to LIVE from Madison Square Garden for the official press conference of the BIGGEST PARTY OF THE SUMMER! SUMMER MADNESS!
Flash exclaims to another huge pop.
CHRIS PAGE: Easy Flash, you'll put yourself into cardiac arrest… Not a good idea.
Chris then states.
CHRIS PAGE: In all seriousness, we are glad that so many of our friends RIGHT HERE IN NEW YORK CITY could join not only my esteemed Co-General Manager and me… but also some of the WGWF Roster that is going to be stopping by to talk some shop about Summer Madness and the happenings in their lives as we head into what is going to be a show that is going to have jaw left hanging.
Flash carries it further.
FLASH ROTTEN: I know that I can't speak for Mr. Page, but the hunger I see in the current WGWF roster is something to can only rival the 2013-2015 roster of talent, and in such a short period the WGWF has once again become the leader in all of Professional Wrestling.
Flash turns toward Chris once again.
FLASH ROTTEN: And that is all because of you, good sir.
The crowd applauds and starts a "Thank You Page" chant. The chant from the crowd causes Flash to stand from his seat and give Chris a standing applause which prompts a movement amongst the room causing everyone to stand and applaud the visionary of the WGWF. Chris lightly nods his head as he wipes a tear from the corner of his left eye before raising his microphone.
CHRIS PAGE: Oh stop it.
Flash retakes his seat while Chris gives the room a minute to quiet down before he continues.
CHRIS PAGE: I haven't done anything but provide a safe space for anyone who doesn't care for politics, that doesn't feel like they fit into any group or kliq, and that just wants to have fun. I made a very bold prediction almost a year ago when the WGWF relaunched that WE would be spearheading the industry in twelve months. Fast forward twelve months and WE are leading the industry into new horizons, WE are setting the standard for how an organization runs from the top down to the bottom; and ladies and gentlemen, I want to point out that the word "I" wasn't used, the word "WE" was.
Chris then states.
CHRIS PAGE: With any successful adventure you're going to have your share of haters that sit back on the sidelines spouting off in feeble attempts to get some attention because they know if they step into this federation they're going to get swallowed whole by the sea of great white sharks that occupy the WGWF locker room. Never, and I've been doing this for over thirty years, NEVER have I seen a locker room full of hungry talents that only want one thing… Opportunity. Everyone gets an opportunity to showcase their talents on big-time stages like we're going to see in just a few short weeks at Summer Madness.
Chris continues.
CHRIS PAGE: Show me another company out there that is running multiple-day Pay-Per-Views not because they want too… but because they have to. Welcome to the WGWF, we are Professional Wrestling.
The crowd applauds allowing Flash to take over.
FLASH ROTTEN: For the first time in the history of the WGWF we will be presenting a monumental two-day event with fifteen matches and nearly fifty talents. We are incredibly thrilled for everyone in our locker room to take center stage to try their hands at stealing the show.
CHRIS PAGE: When I think of how to start a two-day event like this I couldn't think of a better way than showcasing Tag Team Wrestling. As many of you know I have an undying love for Tag Team wrestling, so when I suggested a Tag Team Turmoil event I never thought in a million years that we would end up with nine teams from across the professional wrestling spectrum willing to sign their names on the dotted line to show the world that the last thing associated with Tag Team Wrestling is death for a federation. Seeing as many teams take part in this only fuels my fire to eventually see the WGWF Tag Titles main eventing a Pay-Per-View event.
FLASH ROTTEN: It's the next logical step, especially if our division keeps the momentum going following Summer Madness.
CHRIS PAGE: Nine Teams will take center stage, and all of them are looking to dethrone Mac Bane and Bam Miller.
FLASH ROTTEN: This brings us to our first guests tonight as they will be competing as a part of Tag Team Turmoil, ladies and gentlemen would you please welcome… The Cassette Collective!
Spice Up Your Life by The Spice Girls plays and coming out from the back bursting with so much energy in the room are KC Cooper and Pax Egan better known to the world as Cassette Collective. They both walk over and take a seat behind the table. Both dressed casually for the occasion. Pax is wearing a white Clarissa Explains It All cropped T-shirt, black leggings, and Chuck Taylor sneakers. Her hair is tied up in her two signature pigtails. KC is wearing a pair of boyfriend jeans, a slashed MTV shirt, and combat boots. They smile at the same time and look around, feeling slightly nervous due to this being their first time ever doing a press conference such as this. Chris Page and Flash Rotten are standing applauding the Cassette Collective. Their music eventually comes to a stop and they take their seats.
CHRIS PAGE: Let me be the first to welcome you both to our Summer Madness Press Conference, and I know I speak for Flash when I say we're both thrilled to have you apart of the WGWF Family. My first question, with this being your first Summer Madness event since you both joined the WGWF, did you ever think you'd get the opportunity at Summer Madness for the tag team championship this quickly and do you feel like you are going to be put under a lot of pressure to do well with so many teams now involved?
KC and Pax look at each other as they try to figure out who will answer this first question. They agree Pax will. She clears her throat and looks around at all the reporters before smiling.
PAX EAGAN: We were in shock when the news broke out about the championships being on the line. We didn't think it would be this soon, if not at all, mates, but since we are presented with such a huge, huge opportunity on our hands I'm going to be honest and going to speak for myself on this, I am absolutely terrified, so terrified that I have been biting my fingernails for days do you want to see?
Pax nervously shows off her half-eaten fingers, then covers her face from embarrassment. KC assured that everything will be okay and took over the question.
KC: Paxy it's okay to be scared, okay? I'm sure everyone in this room had to do something they were scared of at least at some point in their lives. You will confront those fears and everything will be okay. I promise. Anyway, back to the question, we understand we are put at a disadvantage seeing as how more teams have come forward.
FLASH ROTTEN: The competition is thick to say the very least, and with this being your first Pay-Per-View with the WGWF, and not knowing where either of you will be drawn for Tag Team Turmoil, how are you able to prepare for the unknown?
PAX EGAN: Well, we've been spending more hours in the gym and doing countless time doing homework by watching every single tape out there available on our opponents, but I don't know if you could truly prepare for a match like this. All we can do is hope and pray our best efforts are enough to win. We know what it is like to hold gold in another company, but WGWF is a whole other different environment where you really have to sink in your claws in order to secure your wins just because the competition is so fierce
CHRIS PAGE: Even with your short period under contract thus far, it seems that The Young Lions are on your radars after Monday Night Brawl. We know they're coming in last as a result of that incredible battle. What seems to be the driving focus there?
KC COOPER: The Young Lions....
Pax looks on in disgust
PAX EGAN: Ew, aren't they the ones who asked us out on dates and bragged how they hold a win over us?
KC COOPER: Yes. They are, mate. At first, we were pretty bummed we didn't get put in last, but after thinking it through whether you put us first, last, or in the middle, we are going to put on a clinic unlike anything you will ever see before. What drives us to succeed is our fan base. We just want them to be proud of us in the ring at all costs, and we motivate each other when others want to tear us down instead.
FLASH ROTTEN: If you could say anything to any of the teams involved, what would it be?
PAX EGAN: The Scrunchy Power is going to clear the ring!
KC COOPER: Watch out.
CHRIS PAGE: I know I'm looking forward to seeing what you two bring to the table, and I am certainly looking forward to what you do next here in the WGWF.
PAX EGAN: Thank you, Mr. Page, for your kind words and for having us here. Hopefully we can do more of these type of things in the future, until then go watch Summer Madness and cheer us on!
They both get out of their seats, and wave before walking off.
*********
Suddenly Page's phone goes off, and the owner sees that it's an incoming video call from someone whose name is not visible to anyone else. A voice can be heard as he has answered the call.
UNKNOWN: Thank you very much Mr. Page for answering the phone, I am sorry I have to interrupt this press conference. But I got something very important to say, but even more to show.I hope you would be so nice to show the press, but also the fans and most importantly the wrestlers. One wrestler in particular that will be competing in the Main Event of Night Two.
We see Page turn the phone around as suddenly the view is shown on the big screens behind Page and Flash. There we see a hallway of a hotel with lots of doors to hotel room doors being visible.
UNKNOWN: You see, I arrived at the airport and bumped into two special ladies. And as a family man and more importantly a father, I could not help but wonder why the father wasn't there with his wife and daughter. But I guess he had some important things to attend to.
The voice is as distorted as it was at the last Dark and Brawl, making it still very impossible to identify the man behind the camera. He walks around the corner and then stops at a door, we can hear the breathing increase as the man pulls out a hotel key card.
UNKNOWN: Let's just see if you can figure out whose hotel room this is???
The door opens after the figure uses the key to the door, he walks through the living room as he hears a shower running. He enters the bedroom as we see the door to the bathroom is open, but he decides to turn around and walks back to the living room where we see the crib of a baby girl.
UNKNOWN: Oh isn't she adorable??? I can honestly say that even though you are a horrible human being Joe, at least you have done one thing right.
The figure extends a hand towards the baby girl, allowing Gia to grab his little finger and gently squeeze it while staring at the strange individual as she starts to smile. The figure slowly pulls away and turns around to leave.
UNKNOWN: I guess that really spoiled the surprise, didn't it?? Well don't worry Joe, I will leave the key right here. So you won't have to worry to have some unsuspecting guests showing up…..
The figure closes the door as he walks off while laughing sinister.
UNKNOWN: I will be keeping a close eye on you during the Main Event Joe…, oh and Page?? I have a video prepared, just for Joe…. Let's just say, this is a special message for his number one fan.
The connection stops as the television screens suddenly start to show a video clip that was recorded at the airport. There we see Mia and baby Gia Montuori waiting for Joe Montuori who is waiting for their suitcases when suddenly someone approaches them.
UNKNOWN: Excuse me, but aren't you Mia Montuori??
Mia turns around annoyed, staring at the individual that is hidden behind the camera that is clearly hidden as it looks upwards towards Mia and is at eye level of Baby Gia.
MIA: I'm sorry, i'm not interested to talk to fans.
UNKNOWN: Oh forgive me madam, I just wanted to say that I think your daughter is the most beautiful baby girl that I have ever seen.
Mia's look slowly changes to a smile, but looks over her shoulder to see where Joe is at.
UNKNOWN: Forgive my boldness my dear, I can tell that you are busy. I want to wish you and your daughter, but most importantly your husband a very wonderful time.
With that the man walks off as Joe Montuori shows up with his wife and baby girl.
J MONT: Who was that asshole???
MIA: I don't know, he only said how beautiful Gia was and then left.
Mia cuddles baby Gia as J Mont watches the figure for a while before the three of them exit the airport as the shot fades.
***************
CHRIS PAGE: Another battle on the horizon taking place on night one sees Edward Grado answer the open challenge issued by Justin York. I understand that York didn't want this match because he feels it was beneath him.
A massive GRADO! GRADO! GRADO! GRADO!" chant starts to fill the room taking both Chris and Flash off guard.
FLASH ROTTEN: I understand Edward has been running amuck in the Big Apple all weekend long. Rumors of mooning police officers, rolling someone's yard with toilet paper… it's insanity in NYC.
CHRIS PAGE: Thankfully we don't have to deal with those antics tonight.
Chris mutters into the microphone.
CHRIS PAGE: Ah shit.
Flash smirks as the crowd starts clapping along with the beat.
FLASH ROTTEN: SING IT LOUD! SING IT PROUD! IT'S…. GGGGGRRRRRRAAAAADDDDDOOOOOO!!!!
The room comes unglued as seen strutting ass out onto the stage in a pair of black Daisy Dukes, a white wife beater that features the face of Sam Chatman on the front, a backward baseball cap, a black fanny pack around his waist! Chris Page just shakes his head as Edward dances across the front of the stage and tables where he unsnaps his fanny pack and hoists it high in the air imitating the Great One. Edward struts around the back of the table where he gets behind Chris Page and leans down hugging him! Page doesn't know how to react. Edward moves down to hug Flash who cuts him off with a handshake instead. Edward waves to the crowd with a goofy smirk on his face before giving them a thumbs up to a huge ovation that breaks out into a louder "GRADO! GRADO! GRADO!" chant that's deafening inside the theatre.
Edward tells the fans to "stop it" as he slides his chair out and takes a seat.
CHRIS PAGE: Words cannot describe what I am seeing.
FLASH ROTTEN: Edward Grado, ladies and gentlemen.
A roar is heard from the crowd once more before breaking out into the "GRADO" chant again.
FLASH ROTTEN: Grado-Fever has taken over New York City.
CHRIS PAGE: How is this a thing?
Chris pears around Flash and makes eye contact with Edward who blows him a kiss.
CHRIS PAGE: You do know this is live, right?
EDWARD GRADO: Oh in that case…
Grado gets up and starts to take off his Sam Chatman tank top only to be stopped by Flash Rotten.
FLASH ROTTEN: Edward, not the place. Not the place.
Some snickering in the crowd can be heard as Grado reaches for the microphone.
EDWARD GRADO: Has anyone seen my Papi?
Edward starts looking around for someone that he doesn't seem to be able to see.
CHRIS PAGE: Edward, you made a shocking debut several weeks back coming to the aid of your cousin, Austin Ramsey…
Edward shouts as loud as he can cutting off Chris Page.
EDWARD GRADO: CUZZZZZZZOOOOOOOOOOO!!!!
Edward throws a thumbs-up! Flash looks over at Chris Page and can't help but hide his mouth with his left hand as he laughs.
CHRIS PAGE: Ya know, I'll just ask you this, what possessed you to answer the open challenge by Justin York?
Immediately Edward responds.
EDWARD GRADO: Yes.
Confused, Chris asks.
CHRIS PAGE: Yes?
EDWARD GRADO: No.
Flash can't keep a straight face as he tries to intervene.
FLASH ROTTEN: Mr. Grado, what's been your favorite part of being in New York City for the first time over the last few days?
EDWARD GRADO: The bagged oregano that you can buy anywhere.
CHRIS PAGE: Listen, I've been in the ring with Justin York on more than one occasion, and I am questioning if you know what you've gotten yourself into. Perhaps you've bitten off more than you can chew.
Edward is distracted by the crowd.
EDWARD GRADO: I'm sorry, what?
Justin York comes from behind a piece of the staging area with a bottle in his right hand. York sneaks up on Grado and cracks him right in the side of the head with the glass bottle sending liquid splashing every direction including some on the reporters in the front row. Grado stumbles to the left, completely groggy as York flips the double bird to the now booing fans and confused reporters in the audience. York climbs up onto the table and kicks the microphone across the table toward Chris Page and the center podium and then grabs Grado by the shirt and pulls him up onto the table. York sets him up in a reverse DDT position and then torques his and Grado's body, spinning a full rotation before crashing Grado face-first into the table with his Casino Crusher! 'FUCK YOU JUSTIN' chants break out as York gets back to his feet and sets one foot on the back of Grado's head and sticks his tongue out while flexing his chiseled biceps and screaming at the top of his lungs. Security rushes the stage and grabs York and begins to shove him off the stage while Austin Ramsey and Samuel Chatman rush out checking on the downed Grado.
'YOU LIKE THAT PAGE?! JUST WAIT FOR SUMMER MADNESS WHEN I RUIN THAT FAT SLOPPY FUCK!'
York is hurling insults across the stage and security finally gets him off stage and out of sight. Medical personnel are checking on Edward Grado. Austin and Sam help Grado up and carry him back behind a curtain with medical close behind.
************
CHRIS PAGE: At this time, we'd like to welcome "The Cutie With The Booty" Todrick Tabor-Ramsey.
Todrick walks to the table and shakes hands with both Chris Page and Flash Rotten. She goes to her chair and turns around, and gives the audience a little twerk before sitting down and flashing her warm smile at everyone.
FLASH ROTTEN: Let's address the elephant in the room, you are going to be a part of Tag Team Turmoil, but your partner is not out here with you.
TODRICK TABOR-RAMSEY: He is occupied; he and Sam Chatman have their hands full dealing with Austin's cousin, Edward Grado.
CHRIS PAGE: He is a bit of an odd duck, isn't he?
TODRICK TABOR-RAMSEY: Edward is unique, but family comes first. I can speak for our team without Austin because I already know what he would say, and we are completely in sync. That is something not all of these teams can claim because we all know it isn't true. Some of these teams joined together at the last second just so that they could come and bask in the glory of the house that The Show Stealerz built.
There are a lot of people in this company, but only a select few that can say that they have done something that made the masses take notice of them. We are at the top of that list, and that is something no one can take away from us. It certainly isn't something the new tag champs can say because what have they done since winning the titles?
Go ahead, tell me, I'll wait. They are boring and lackluster, and is anyone surprised when you have to follow in the footsteps of the two people who put this division on the map. Everyone that is in this match wants to show the world that they are the team to beat, and that's cute because we all know that The Show Stealerz is THE team to beat. We are still making an impact without the belts, and everyone knows it.
The Young Lions may have an advantage entering the fray as the last team, but as our team name states, we are the ones who steal the show, especially during big events. Summer Madness will be no exception. We will steal the show as we always do. Now if you'll excuse me, I have to get backstage and help my family. I love you, my Rockstars!
Todrick stands up and blows a kiss at those in attendance and walks out of the room
***********
CHRIS PAGE: Jim, this question is for you.. What are your thoughts on competing in the main event for Day Two of Summer Madness against both Joe Montouri and current WGWF World Heavyweight Champion Peter Vaughn in a triple threat match?
Jim Caedus' visage looks to be stuck in a perma-frown. He's flanked by both Lycana and Nove Skye.
JIM CAEDUS: I think given the situation that started months ago at the conclusion 'a Championship Monday, I unnerstand Mr. Rotten's decision t' book it. The squeaky wheel gets the grease an' Joey's squeakin' ass is clearly desperate fer the attention. That bein' said, despite 'is ego I'm willin' t'bet J-Mont's sprayin' 'is crotchless panties as the clock ticks down t'crunch time realizin' exactly who it is he's up against here.
CHRIS PAGE: Are you concerned at all that the match is a triple threat?
JIM CAEDUS: Nope.
CHRIS PAGE: What about your thoughts on my officiating in the match? Do you have any concerns?
JIM CAEDUS: Again, given the situation that arose during Championship Monday, I think the decision was warranted. We can't have Joe's bullshit shenanigans turnin' another major draw fer the fans-- who're expectin' resolution --into another clusterfuck. I have no concerns.
CHRIS PAGE: What kind of strategy are you looking to apply in the match up against two opponents, every man for himself?
JIM CAEDUS: ......Wouldn't be wise t'show my cards.
CHRIS PAGE: Do you believe you're going to walk away with the prize, Jim?
JIM CAEDUS: I never predict victory. I'll say I'm confident. That's it.
CHRIS PAGE: Are you-
FLASH ROTTEN: Now hold on, Mr. Page, I'd like to ask a question. A question no one has asked and I'm sure many not in the know are curious as to the answer. Mister Caedus, we're all aware of the rumors.........is it true that you have, how should I put this...a masculine monster to the degree it defines as a woman-slayer between your legs?
CHRIS PAGE: Now what does THAT have to do with-
NOVA SKYE & LYCANA: Yes.
Having answered in unison, both Nova and Ly exchange glances behind Jim's back.
JIM CAEDUS: *a slight smile* No more questions.
CHRIS PAGE: *staring daggers at Flash Rotten* Don't interrupt me again.
Chris glances toward Lycana.
CHRIS PAGE: Lycana…
Ly focuses her attention on him as she shifts forward, hands on her knees from her position beside Jim Caedus and Nova.
CHRIS PAGE: There's a lot of history between you and Jenny Myst, we all know that. Can you give a short version for those who are unaware?
LYCANA:
The very short version is this. It started from almost the moment I stepped into the XWF… Through a feud with a fellow teammate of mine, we clashed multiple times, a lot of encounters that included blowtorches, chains, gasoline, and so forth. There were a lot of people involved, so we never went head to head. We had a tag match there, and that was it until we both came to the WGWF and had the tag match on Brawl.
CHRIS PAGE: So this will be your first one on one encounter?
LYCANA:
Yes it will… and I'm looking forward to it.
FLASH ROTTEN: So I have to ask…
He looks over at Page with a smirk.
FLASH ROTTEN: … what are the odds of you pulling out that dreaded inside cradle of yours?
CHRIS PAGE: Deadliest inside cradle in the game!
Lycana chuckles.
LYCANA:
There is always a chance for someone to be surprised by the Chronic Fluke.
CHRIS PAGE: Do you have any thoughts about this match?
LYCANA:
Yes. Especially given the stipulation.
She smiles and leans in.
LYCANA:
Simply put... I'm going to hurt her. Badly. That's all.
CHRIS PAGE: Short and sweet, but that's the last thing that will take place when Jenny Myst meets Lycana on Night One of Summer Madness in a No Holds Barred Match. Lycana, thank you for the time.
**********
LEXI GOLD: I would be very much satisfied. Any time someone chooses to mess with the things I love and the people in my life, my immediate instinct is to defend them and fight in their honor, and that's the plan heading into Summer Madness. He may be bigger than me, but let's be honest, he lacks the brain cells, so I doubt he can even figure out a plan to try and beat me. I already got in his head to the point where I wouldn't be surprised if he is terrified to enter this match. I would be, too. I mean, he is risking being eaten alive by deadly snakes. He signed his own death certificate when he agreed to this match. I hope he gets a really good look at himself in the mirror, he may not have all body parts to flex when this is over.
She makes some weird, unexplainable noises in the mic. Suddenly, one of her babies came out from under the table and slithered around her mic with one of Mike Mason's T-shirts halfway in his mouth. The news reporters looked frightened at the large python and stood up, almost ready to bolt out the door, as she looked down at the snake and ran her fingers over the snake.
LEXI GOLD: You are scaring away the innocent people, Henry. I told you to stay at the hotel and if you were a good boy you'd get one of those fancy massages, but no you had to be an escape artist once again, but it's okay I still love you. You can stay.
CHRIS PAGE: Lexi, this marks the first time the WGWF has ever put a match together like this. I'm not ashamed to admit that when it comes to snakes I want to be as far away from them as possible. Devil's Advocate, let's say your plan doesn't work, and you end up on the losing side of things, how does that affect you?
LEXI GOLD: If I somehow end up thrown inside that snake pit, it won't bother me in a way where I'm going to all of a sudden be frightened of my own babies. No matter if they are mine or not, I have that connection with snakes and trust them more than I can say about some people. It's more like I don't want that big-headed asshole to win, but if by chance he slips away with a win I'll probably be irate sure, but I've learned that doing that for a long period of time won't get me anywhere, so much like any other wrestler we suffer a loss we have to put it behind us and continue going about our careers and improving oneself.
FLASH ROTTEN: There is no denying that the WGWF faithful are firmly going to be behind you on this much like they have since you signed a contract when the WGWF relaunched. How are you going to be able to counteract the sheer size and strength disadvantage you're undertaking by taking this match?
She nods her head and plays with her hair.
LEXI GOLD: You are right, I'm much smaller than him, so it's not going to be easy. It's like going up against Godzilla on steroids, but throughout my career I have challenged wrestlers who are bigger than me, and believe me when I say this I wasn't scared then, and I'm not scared now. I will use my body as a weapon and do whatever is necessary to make sure he stays down, then when the opportunity arises I'll throw his ass in the Pit of Snakes and watch his helpless self try to get out.
CHRIS PAGE: With all that being said, and with everything that has transpired with Mike Mason do you think that this is going to be the end of it once and for all?
LEXI GOLD: I sure as hell hope so, but if he survives and chooses to mess with me again, he might not like what I have in store for him. I will make sure his life becomes ten times more hell than before.
FLASH ROTTEN: And my final question for you Lexi, if this is the end of things between you and Mike Mason… what do you have your sights set on next in the WGWF?
LEXI GOLD: The Cannabis Cup will be the obvious answer, but that is still far away. It is hard to predict what will happen from now until then. I'm always looking for the next challenge, but be advised on who you are dealing with. I'm not what you would expect. My mind switches constantly. Just ask anyone.
CHRIS PAGE: Are there any final words you want to leave for Mike Mason or the WGWF?
Her eyes lower down to the ground before looking up with a serious look on her face.
LEXI GOLD: He's about to relive another nightmare he will never, ever forget. I doubt he will recover from this one.
She smirks before wrapping the snake around her neck, then removes herself from her chair and leaves.
CHRIS PAGE: Ladies and Gentlemen, the one and only LEXI GOLD!
************
CHRIS PAGE: Ladies and gentlemen, up next, we have the participants of the Intercontinental Championship match… First, the challenger, Johnny Bacchus followed by your IC Champ, "Cholo" Giovanni Santana.
The reporters and audience in attendance give a nice reaction as "The Rascal King" comes out dressed in a black hoodie, jeans, and a pair of oversized women's sunglasses. He shakes hands with Flash and Page before taking a seat to the left of Page.



Cholo comes out, dressed in a white business suit, colorful collar dress shirt, unbuttoned, his afro puffed to the 10's and holding the IC championship in his right hand, as on his left he holds his classic mezcal drink. He puts them both down to the right of Page before shaking hands with Flash and then giving Page a warm bear hug. He stands by the podium, being the first to address the reporters and answer any questions.
CHOLO: Que pasa mi gente?! First, let me say a quick thank you to señor Page as always. Second, que pasa Johnny? Looking good amigo, thanks for coming out… Now, Cholo knows your time is limited and precious, so let's get to the questions.
Chris looks at the hands raised and points to a female reporter in the back.
Reporter: Thank you Mr. Page. Mr. Santana-
CHOLO: Please, you can him Mr.,. he's old! You can call me Cholo… or Papi, whatever it's easier.
Cholo winks at her as he takes a sip from his mezcal and as much as she tries to stay professional, you can tell she swooned a bit just now.
Reporter: Um, right, thanks Pap-I mean, Cholo. I guess the question in everyone's mind is, how was drinks with Johnny the other night?
Cholo smiles and then looks over at Johnny who smirks.
CHOLO: Ah well, great question… Johnny and Cholo went bar hopping that night all over NYC…. We had a great time, my man can hold his liquor like Cholo can… We got to know one another quite well and despite our backgrounds being very different, we found out we have a lot in common too.
Reporter: Oh yeah? Like what?
Cholo pauses as he reaches for his IC title and holds it up.
CHOLO: Well, this for instance. But Cholo doesn't mean the belt it self, but what it represents… The spirit of competition, the desire to be one of the best across all the continents of the world. The proof that you are a fighting champion… Johnny is already a champion elsewhere, he knows what that means over there… But he has seen what Cholo has made this championship mean over here and he wants to be the next one to not only challenge for it, but if the night goes his way, hold it and take it to another level.
Another reporter raises his hand and Chris points him out.
Reporter: And do you think the night will go his way?
CHOLO: No, of course not.
Cholo playfully punches Johnny on the shoulder and everyone laughs but Johnny once again just smirks, but he almost doesn't. Page points out another reporter.
Reporter: What kind of match are you expecting at Summer Madness Cholo?
CHOLO: What kind? Well, the answer is simple amigo… Cholo is expecting the toughest match he has ever had to date. Johnny is a legend because of what he has done everywhere else. He has seen and done things Cholo can only dream of. Let's face it, Cholo knows he is the underdog in this match… Cholo has been wrestling for only 3 years, and this is Cholo's first 'real' promotion and this Cholo's first real gold he has ever won. So he knows he has his word caught out for himself. So yeah, Cholo is expecting his toughest test, but Cholo is a student of the game, and he didn't get here because he didn't study… He's ready for this test, and he will do everything he can to pass it.
Another reporter raises his hand, Page gives him the greenlight.
Reporter: So what are you doing differently then to prepare for this legendary match against a legendary opponent?
CHOLO: What is that old saying.. If it ain't broke, don't fix it? Cholo has lost only one singles match to date, the TV championship match and we all know he didn't really 'lose it'. The rest, he has won… So he has a formula that works, that he will use against Johnny… Besides, this is a match where Cholo is not driven by hate or anger, or because there is a hidden agenda. This is a simple, one on one championship match against a great opponent to find out who's best. Cholo is not trying to stress about it too much or add any unneeded pressure.
This causes Johnny to stand up and walk up to Cholo who is a bit taken back by Johnny's reaction. He sees that Johnny has a serious demeanor about him at the moment and takes a step back.
JOHNNY BACCHUS: Hey there Cholo, do you mind if I take the wheel here for a bit?
CHOLO: No, of course not amigo! You have more experience at this than me anyway, go for it.
Cholo is all smiles as he pats Johnny on the shoulder, takes a sip of his drink and sits down.
JOHNNY BACCHUS: I'd like to start this by giving my personal thanks to Chris Page. Obviously, I am here because at a time that some moral diminutives sought to drive me out of this industry and reduce my name to a punchline out of petty jealousy, this man saw something in me. Though he didn't know it at the time, in securing me a WGWF roster spot, Chris Page found himself ahead of a Spring and Summer that have been in the palm of one hand –
my
hand. What started as taking a chance on a potential diamond in the rough netted Chris Page the prestige of saying that
he
scouted the breakout star of 2023 before anyone else did – that
he
signed a cross-promotional prizefighter – that
he
was a step ahead of the bidding war. I may have reservations about the means by which CCPE conducts business, but it's risks like this man took which demonstrate the cunning and savvy it takes to run a successful empire and for that I tip my hat to him both for the opportunity to be here but the opportunity to sit across from…
Johnny gestures to Cholo.
JOHNNY BACCHUS: …This man here. Now is the time for collection on that investment, and in spite of some initial hiccups thrown at me by a cretin like Fred Debonair, I have demonstrated that the Jonathan Bacchus sitting at this table is the same one who's held gold across some of the biggest names in our industry – that the Jonathan Bacchus sitting at this table is the one who not only kicked down the door of the most prestigious and exclusive event of the year, an event that didn't
want
him, and ran away with the whole thing – that the Jonathan Bacchus sitting
here
is
the
acquisition of the year and Jimmy Caedus, Ally Calaway, and Bunnicula can hit the showers.
He pauses to allow polite applause.
JOHNNY BACCHUS: But it is for that reason, as I sit here now and hear Cholo say he's "not trying to stress", that I cannot help but feel insulted.
Johnny slams a hand casually down on the table for emphasis as he turns to look directly at Cholo.
JOHNNY BACCHUS: Let me be clear about something, this is not just a match to me – no match is. When I won my first championship three years ago, I told myself that I would treat
every
championship opportunity just as I did that one – that I would
always
treat my opponent as if they were the single most important person for me to defeat – that I would
never
not be complacent. See, you can say you don't want to add any unneeded pressure Cholo, but
I am going to war with you.
When I've talked about what it takes to be a legend, it takes more than proclamations of greatness by others, it takes
demonstration
. And you are going to learn
very
quickly that it's one thing to admire a man's work from afar and another to deal with it face-to-face. So if you're not stressing or adding any undue pressure, I'm not sure why you think you can sit there with a close grip on that Intercontinental Championship and not expect me to be snatching it from your hand.
Johnny's head turns as a member of the crowd raises a reluctant hand.
JOHNNY BACCHUS: Yes?
Reporter: Mr. Bacchus, over the past month, you've expressed a great deal of admiration for the Intercontinental Champion, Giovana Santana. This aggression seems somewhat out of left field. For those of us who may be confused to have heard you say you deeply respect him to now taking this stance, how can you respond?
JOHNNY BACCHUS: That's actually quite simple.
Yes
, I, Jonathan Backus the person, respect Cholo. I, Jonathan Backus the person, admire the work from Cholo which I have watched from the back, on television, and in the stands. But, I, Johnny Bacchus
the competitor
have not been given reason to respect Cholo yet – I have not stepped in the ring with him to see how he will fare against me. I, Johnny Bacchus the competitor, give that respect when it is earned through demonstration. There are two camps you can fall in: either the pro ballers or the amateurs. And
I, the competitor,
need Cholo to show me that
I, the person
have made the correct assumption.
That
is how you find success in this industry.
Cholo stands up, and Johnny turns to face him. Cholo walks up and now they are sharing the podium and microphone.
CHOLO: Amigo, do not take me not stressing about a match, our legendary match, as a sign of disrespect. You see, whether Cholo faces you, or any other member of the roster, heck Chris Page or even Flash Rotten himself! Heck of a hurricanrana by the way hombre.
Flash nods with thanks.
CHOLO: He will not stress about it… It's not his style… but since you want to differentiate between the man and the competitor, how Cholo has the man's respect but not the competitor… Well to that, Cholo says… It's cool hombre. What you see before you is Cholo, the one and only, the whole package. He is the same in and out of the ring… In and out of the bedroom, sorry, that wasn't for you… that was for the young reporter from earlier… *he winks* But if Cholo says he respects you, he respects you period, the all of you... But if Cholo has to earn the respect of the competitor side of you, then make no mistake about it… He will earn it… Just like he has earned it from every competitor before you, whether they like to admit it or not…. If Cholo has to my amigo Johnny, he will beat it out of you… and…
He grabs his drink, and takes a sip inches from Johnny's face..
CHOLO: He will not… *sip* stress… *sip* about it... *sip*.
He grabs his championship belt, and sensing the tension rising, he smiles, keeps his cool and decides to take his leave.
CHOLO: Muchas gracias everyone!
But as he turns, Johnny's hand shoots out. He doesn't grab for Cholo – he grabs for the Intercontinental Championship. His grip on the belt is firm, and as Cholo feels the resistance, he turns to face Bacchus. The two step back towards one another, belt in Cholo's grip and Johnny's grip on the strap. Face-to-face once more, Johnny gives a small smirk.
JOHNNY BACCHUS: We'll see.
And with that, Johnny lets go and steps back. Cholo pauses and regards him cautiously… Then the two turn and depart, Chris stands up and thanks them both and then prepares for the next guests.
*************
The crowd of reporters seems to get more excited as the WGWF Heavyweight Champion of the World, "The Mechanic" Peter Vaughn, makes his way into the Press Room here at Madison Square Garden. He is, of course, bringing the championship belt with him, setting it carefully in front of the mics area, before turning and shaking the hands of both Flash Rotten and Chris Page. He then turns to the audience, giving them a small smirk.
Peter Vaughn: So, I don't do these events very often, so I hope you'll all appreciate it. Is this the part where I answer whatever questions come to mind?
Several reporters begin to raise their hands and talk at once, with Vaughn raising an eyebrow. Flash Rotten quickly intervenes, reminding them that they've got to talk one at a time, before pointing out the first question.
[
Reporter 1: Mr. Vaughn, how does it feel, knowing that you're going to be defending your World Championship at Summer Madness in the World's Most Famous Arena, the Garden?
Peter Vaughn: Softball question to start, but a good one. It doesn't matter how many five-star matches I have, there's always going to be a touch of excitement added when fighting at an arena like this. Everyone knows the history of the Garden. Fighting here, in the main event, well, it's pretty much every young wrestler's dream come true.
Reporter 2: Let's talk about your opponents. You're facing a former Universal Champion in Jim Caedus and the man who's likely the last IIW World Champion in Joe Montouri. Do you feel like the odds are stacked against you?
Vaughn lets out a short chuckle, shaking his head, before putting his hand on the belt in front of him.
Peter Vaughn: Sure, the competition here in the WGWF is pretty fierce. But I've still been the champion since the beginning of the year, fighting off everyone who has come my way. I don't see that being any different against these two, especially with their own struggles as of late. Really, the odds never concern me, because I always find a way to change them in my favor.
Reporter 3: How do you feel about the emotional intensity of the fans going into this match?
Vaughn looks back and forth at the men around him for a moment.
Peter Vaughn: What the heck are you talking about?
Reporter 3: I'm just saying, Mr. Vaughn, that the fans seem to be more invested in you retaining the championship. Neither Mr. Caedus nor Mr. Montouri really have the backing of the fans, which is unusual in a match like this.
Peter Vaughn: You mean how one of us is supposed to be a "good guy"? Hey, I get it. I've never been one who finds himself caring about what the fans think. They've hated me for years now, even if I didn't deserve it. But at the same time, have I threatened to kill someone in order to win a match? No. I also haven't stolen a championship and paraded around like it was actually earned. In a way… I guess I AM the better person for the crowd to cheer for, if only because I do my job and I do it well.
Reporter 4: So on that note, Mr. Vaughn, do you FEEL you're a better person than your other two competitors? Because the fans do take note of what you've done in TPW recently, and your actions over the last two years have shown that you will do anything to win a match.
Peter Vaughn: Of course I will. Because the goal of any match is to win it, is it not?
Reporter 4: Well, yes, but…
Peter Vaughn: So I follow through on my goals, which is more than I can say for most people.
Reporter 1: What will you do if you end up losing at Summer Madness?
Peter Vaughn: … What do you mean, what will I do?
Reporter 1: Will you still be active in the WGWF?
Peter Vaughn: … Why wouldn't I be? Jesus. Next question.
Reporter 2: Do you expect any additional aid from Chris Page in this contest? He is the guest referee in this one, and you two have been tag-team partners in the recent past.
Peter Vaughn: We have been, and I consider Page one of the best guys in the wrestling business. But I don't expect any special treatment. After all, both Jimmy and J-Money are part of the CCPE, even if they don't act like it. I expect Page will call things pretty close down the middle, depending on how we all behave. Now, if J-Mutt decides to get in Page's face, well then, he'll be to blame for what happens.
Reporter 3: Is there any truth to the rumors that you've been seeing someone new?
Vaughn looks confused for a moment.
Peter Vaughn: No, I can't think of anyone new recently. I mean, I'm working with El Diablo Blanco now in another fed, but I've known him for a while…
Reporter 3: Not in wrestling, Mr. Vaughn. I'm talking about the rumors of your new romantic relationship.
Peter Vaughn: … With who?
Reporter 3: Well, it wouldn't be proper for me to bring up a name…
Peter Vaughn: Hell, a name's not really required. No. I'm not in any kind of "relationship". With anyone. Next.
Reporter 4: Back to wrestling…
Peter Vaughn: Thank God.
Reporter 4: Do you have thoughts about your historic title defense at Summer Madness?
Peter Vaughn: "Historic". I like that. The match WILL probably go down in WGWF history, after all. It'll be another major notch in my tremendous run as the WGWF World Heavyweight Champion. It has been 211 days since I earned this title by winning the West Coast Rumble. 211 days, where all other wrestlers here in the company have sought taking me down… and have missed. And once I send the winless J-Miss and the unstable Jimmy Caedus down the river, ending their shots once and for all, I'll be headed towards my first full year as champion. And won't that be sweet, boyos?
Vaughn nods to himself, gathers up the belt, and heads out, ignoring any follow-up questions.
**********
As Flash Rotten and Chris Page are taking a quick break from the questions and answers, a commotion is heard. As Page puts down his bottle of water and Rotten puts down his ham sandwich, they look up but cannot see what is going on because security is blocking their view. While that is going on, you see a man in a custom Gucci Mink Coat come slowly walking towards Page and Rotten. When both of them see who it is, their facial expressions turn to anger
FLASH ROTTEN:
I don't think we asked for a loser.
]CHRIS PAGE:
We are not having any issues today Joe.
Only J Mont would be the one wearing a Gucci Mink Coat to a press conference. Well, maybe Conner did first, but it looks better on J Mont. Underneath the mink, you can see the tee shirt that J Mont is wearingFlash sees the shirt and wants to say something before J Mont cuts him off.
J MONT:
Don't say a word and finish your ham sandwich. I know you are hungry tubby.
Flash looks annoyed while Page is standing there looking at J Mont like a disappointed parent. Meanwhile, J Mont is flashing his Rolex followed by his custom gator shoes. Only J Mont can pull off an outfit of this magnitude.
J MONT:
Don't be sad Chris. After i take out your World Champion and #1 contender, i'm leaving as WGWF World Champion. But, let's not forget that next in line is the Entity World Title I'm going to take from you. It's great to be J Mont.
Rotten once again wants to say something but is cut off by J Mont.
J MONT:
Hey rolls of shit, I got a surprise for you. I promise you are going to love it.
CHRIS PAGE:
I told you Joe, we are not having any shenanigans here today.
J MONT:
What is wrong with getting a family together?
Page and Rotten look at one another with a confused look on their faces.Marching up with anger laced in every footfall is Sonya Benson. She looks fucked up, like a rag-a-muffin. Time has not been good to her over the past week since the horrible match announcement. Unlike Jmont's slick attire, she's clad in a pink prisoner inmate uniform and is sporting a bandanna reverse with the knot in front like Tu Pac and Scott Hall used to do.
CHRIS PAGE:
Jesus, Sonya? Are you ok? You look like microwaved shit that's been refrigerated for a few days and then put back in the microwave again.
FLASH ROTTEN:
You're really hamming up the dramatics with your outfit this time, Sonya.
J MONT:
Making her madder would be a mistake.
Benson doesn't say a word. Her nostrils flare and her eyes slide back and forth between the two. If looks could kill, Flash and Page would be dead by nuclear explosions right now.
CHRIS PAGE:
Ok, everyone. Let's just calm down. I have no idea how Sonya ties into being Flash's family unless she's his long lost daughter or something.
J MONT:
No you idiots, Sonya is not your family. But we have found the brothers of Fat Man Rotten and wanted to unite the 4 of them here, right now.
J Mont laughs and Sonya snerers as they only know what is about to happen. They wave towards the doors, and as they swing open, 3 men walk out.
These 3 large men walk down the aisle, and towards Sonya and J Mont. Now we have the 4 Fatmen reunited
J MONT:
See Chris, just helping Rotten meet his brothers that he lost a connection with. What is wrong with that?
Page is really looking irritated and wants to send J Mont home, but Summer Madness is right around the corner
CHRIS PAGE:
You need to have these men leave right now.
PRESTON LACY:
I'm not leaving until I get the other half of that ham sandwich.
J MONT:
You know your brother will give it to you.
SONYA BENSON:
ENOUGH! Let's get this over with.
She claps her hands a single time and the 3 large men lumber their way through a side door.
SONYA BENSON:
This Press conference is officially over.
The 3 huge men run back out as fast as they can carrying a big bucket over their heads. Page and Flash scramble cause they have no idea what the hell is going on, but they aren't quite fast enough. Well, Flash definitely isn't.
SWOOOOOSH!
The giant bucket is tossed on them, mostly getting on Flash Rotten. It doesn't take a rocket scientist to figure out that the liquid is disgusting PIGS BLOOD! Poor Flash stands frozen like Carrie from the iconic 70's horror movie when she got drenched in pigs blood. He's in shock. Page stumbles away cursing and yelling at security. Flash snaps out of it and goes ballistic but then JKO OUTTA NOWHERE to Flash Rotten from….

MIA!!!!!!!!!!!!!!!!!!!!!!!!!!!!!!!!!!!
MIA:
THAT is for putting me and my daughter at risk and for your stalker friend, you son of a motherfucking piece of shit bitch!
It's pure bedlam now as security creates a buffer between the opposing parties and boy howdy Chris Page is FUCKING livid. Security roughhouses the 3 large men around but Preston Lacy isn't going down without a fight and takes a seat on Flash Rotten then fanny-burps on him while fishing for the lost half-eaten ham sammich. Security gets things under control as Norris and Smith emerge pushing Baby G in a 600-karat gold baby stroller.
J MONT
: I guess all the questions have been answered today!
J Mont, Sonya, Mia, Baby G, Norris and Smith leave together as Chris Page walks right up to J Mont and decks him with a right hand, sending him sailing over one of the tables and tumbling to the ground. Page flips the table over on top of J Mont and takes a mount position! Page hammers down with right hands to J Mont as Sonya and company get Mia and Baby G to safety. The crowd is on fire as Page gets to his feet and removes his sport coat, tossing it away. He loses his necktie calling for J Mont to get up as this press conference fades to black..
[/i][/div][/font][/div]